1984>1985 era - drum kit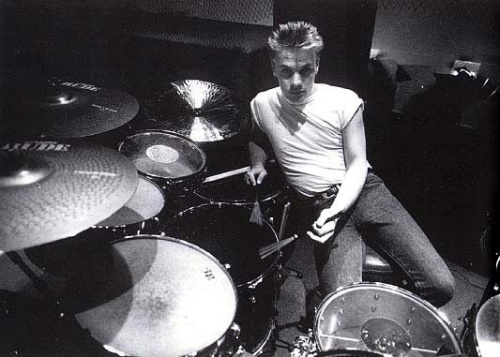 * Information per Modern Drummer magazine // August 1985 by Connie Fisher *
CF: tell me about your kit setup.
Larry Mullen Jr: the drums and hardware are Yamaha. We're always changing things, but right now I've got my usual 24" bass drum, an 18" floor tom and a 14" rack tom on the left, one 16" floor tom on the left, one 16" floor tom on the right, and an 8x14 snare. I've also got two Ludwig piccolo snares and another piccolo snare custom made by Eddie Ryan in London. The drumheads are Evans Black Golds. I've got two Latin Percussion timbales and assorted Latin Percussion instruments. ALl the cymbals are Paiste: an 18" 2002 Heavy Crash, two 18" Rudes, a 20" Rude, a 2002 China, and 14" Sound Edge hi-hats...
CF: You obviously have a strong preference for the natural approach to things. Have you tried any of the electronic drums?
LMJ: Yes. I don't like them much. I don't want to limit myself and say I'll never use them. For arenas, we've started using a SDS7 Simmons triggered by the acoustic drums, just for sound reinforcement. I'm not really into it, but if we rely on the mic's too much for the up-front sound, there's too much ambience and the drum sound gets lost. The Simmons just tightens up the sound. We don't use it on every song, and there's no Simmons sound as such.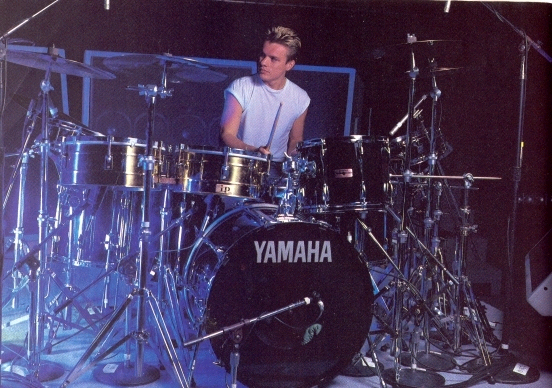 * information per Musician magazine 1985 *
Larry Mullen Jr. plays Yamaha drums, the Power Recording Series. He uses a 24-inch bass drum, a 14-inch rack tom, two 16-inch floor toms, one 18-inch floor tom and a 14x6.5-inch snare. he has two piccolo snares - one by Ludwig and one by Eddie Ryan, an Irishman who runs a London drum shop - and two Latin Percussion timbales. His cymbals are Paiste: a 2002 18-inch crash, two Rude 18-inch crashes, one 20-inch Rude crash, a 20-inch 2002 Chinatop, and a pair of 14-inch Sound Edge hi-hats.
Mullen uses all Yamaha hardware, Evans drum heards (usually Black Golds), and sticks designed by Cappella Wood in New Jersey. He occasionally uses a Simmons SDS7 triggered by his acoustic drums. He uses a click track (triggered from Edge's Oberheim DX) on "Unforgettable Fire" and "Bad".
NOTE:
While even the earliest of his YAMAHA kits were meant to be double headed drums, LARRY did not play them as such. He had the bottom head cut, leaving about an inch of drum head attached and the centers missing, on the underside of his toms. This gave his drums the look of a double headed tom but the tone and feel of his TAMA "Fibre Star" single headed toms.